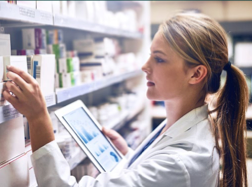 Pharmacy TechnicianA pharmacy technician will assist pharmacists in their daily tasks. They are directly involved with the receiving and dispensing of prescriptions to clients. A PT works under the supervision of a licensed pharmacist. The pharmacy technicians role is important in helping maintain medication safety.
The most common places of employment for a pharmacy tech is in retail pharmacies, hospitals, or nursing homes.
Common duties in a retail pharmacy may include:
Receiving prescriptions both over the phone and in person
Entering prescriptions into the computer database
Dispensing medications
Assisting clients at checkout
Working with insurance companies
Maintaining inventory
Additional duties in a hospital setting may include:
Delivering medications to patients
Reading patient charts
Working closely with nursing staff to properly prepared and package medications.